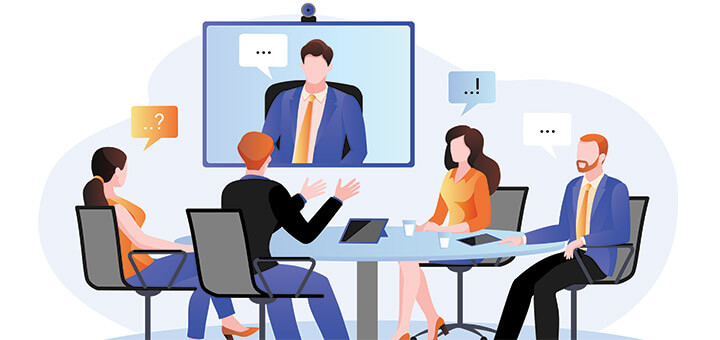 Empower your hybrid workforce with collaboration technology solutions
Any work environment comes with distractions, whether at home or in the office. What is important is that we communicate and collaborate productively. Collaboration technology solutions are helping us do that by bringing focus and clarity to hybrid meetings. Understanding individual hybrid workplace habits and challenges
Ensuring both home and conference room team members can be seen and heard clearly may seem like a straightforward process. But standard collaboration technologies are not always well-suited to hybrid work habits and environments. 
At home, laptop webcams, microphones, and audio functions paired with UCC platforms use a lot of bandwidth. This significant strain can lead to slower communications and choppy video and audio. 
Those returning to work are coming back to newly designed collaboration-based office spaces. Some may struggle to communicate with remote colleagues due to out-of-date equipment, or limited personal workspace privacy. 
Ultimately, the strain on office and remote coworkers can hinder productivity, putting some at a disadvantage, and limiting business success. 
Understanding hybrid work habits, challenges, and supporting both with quality audio-visual technology is essential to cultivating a balanced and successful hybrid workplace. 
Audio-visual technology improvements to consider
Unified communication and collaboration platforms give you the ability to connect. But high-powered and intuitive audio visual solutions, placed strategically throughout your meeting spaces and home offices, allow your teams to take hybrid workplace engagement to the next level. From: 
Premier auto-tracking camera systems that keep you in frame

 

Noise-canceling headsets

 

4K video bars and displays

 

Smart speakerphones for meeting spaces or cubicles

 
The right combination of intuitive collaboration technology solutions can balance and boost the in-office and remote worker experience. AV and UCC (Unified Communication and Collaboration) solutions tailored to your needs minimize distractions, and allow you to see, hear, and understand people clearly.